Paraguayo presentó dos proyectos en Conferencia sobre Desarrollo Sostenible en Nueva York
El MSc. Gabriel E. Pereira, del Grupo de Investigación en Sistemas Energéticos (GISE), de la Facultad Politécnica de la Universidad Nacional de Asunción (FP-UNA) presentó dos trabajos científicos en la Conferencia Internacional sobre Desarrollo Sostenible 2019 (ICSD por sus siglas en inglés), que se llevó a cabo a finales de setiembre en Columbia University de Nueva York, Estados Unidos.
El primer trabajo lleva como título "Los Objetivos de Desarrollo Sostenible (ODS) en Paraguay: los ODS se dirigen a interrelaciones, prioridades de desarrollo y brechas » y fue expuesto en la sesión de pósters. El segundo se denomina «Una evaluación del potencial de la hidroelectricidad para desencadenar los resultados del desarrollo en Paraguay: identificación de sinergias políticas», que fue presentado en la sesión de presentaciones orales en el área de «Good Practices in the Energy Sector: Modeling and Simulation, Case-Studies, and Capacity Building».
Ambas investigaciones tuvieron el objetivo de analizar las interacciones entre los distintos Objetivos de Desarrollo Sostenible (ODS), aplicando una metodología semicuantitativa y de análisis multicriterio.
La Conferencia estuvo organizada por la Asociación Global de los Programas de Maestría en Desarrollo del Earth Institute de la Columbia University, en cooperación con la organización Sustainable Development Solutions Network, (SDSN).
Los trabajos fueron elaborados en el marco del proyecto "Transformación estructural del sector productivo del Paraguay: un enfoque desde la perspectiva de la teoría de la complejidad económica y del espacio de productos", financiado por el Consejo Nacional de Ciencia y Tecnología, (CONACYT), a través del Programa PROCIENCIA con recursos del Fondo para la Excelencia de la Educación y la Investigación – FEEI.
Cepal confirma sombrío panorama económico para América Latina
Comerciantes de Ciudad del Este esperan medidas que ayuden a mejorar la competitividad con respecto a las ciudades fronterizas con Brasil.FOTO:GUSTAVO GALEANO
Santiago, Chile | AFP | por Giovanna FLEITAS
América Latina crecerá apenas 0,1% durante 2019 y el próximo año lo hará 1,3%, completando su peor racha de expansión económica en siete décadas, en un escenario de «desaceleración generalizada» a nivel regional, dijo este jueves la Cepal.
El informe de la Comisión Económica para América Latina y el Caribe (Cepal) destacó el contexto «particularmente complejo» de la región y redujo levemente también la proyección de expansión para el próximo año a 1,3% desde un 1,4% previsto en noviembre.
«Veintitrés de 33 países de América Latina y el Caribe (18 de 20 en América Latina) presentarán una desaceleración de su crecimiento durante 2019, mientras que 14 naciones anotarán una expansión de 1% o menos al finalizar el año», señaló la Cepal, un organismo técnico de las Naciones Unidas con sede en Santiago.
Las proyecciones de crecimiento para 2020 se mantendrán bajas, en torno al 1,3% para la región en su conjunto, señala la #CEPAL en su #BalancePreliminar de las Economías de América Latina, dado a conocer hoy en #Santiago de #Chile. Lee el informe en https://bit.ly/2YLl3KD 1612:06 – 12 dic. 2019Información y privacidad de Twitter Ads24 personas están hablando de esto
La región acusa el golpe de una «desaceleración en la demanda interna», que se acompaña por una baja demanda agregada externa y mercados financieros internacionales «más frágiles», a lo que se suman «las crecientes demandas sociales y las presiones por reducir la desigualdad y aumentar la inclusión social», como el caso de las protestas sociales que emergieron en países como Chile y Colombia.
La zona más afectada es América del Sur, que «entra de nuevo a una tasa negativa» de crecimiento, según alertó Alicia Bárcena, secretaria Ejecutiva de Cepal, en alusión a la contracción de 0,1% que registrará la subregión este año, arrastrada por Venezuela (-25,5%) y Argentina (-3%).
En tanto, Brasil, la mayor economía regional, registraría una tibia expansión de 1%, mientras que Chile crecerá apenas 0,8%, afectado por la crisis social que comenzó a mediados de octubre, minando las actividades del comercio y los servicios.
América Central y México crecerán por su parte apenas 0,5% este año, con el gigante norteamericano con nula variación, en una región donde Nicaragua firmará una contracción de 5,3%.
Bárcena resaltó que el panorama macroeconómico de los últimos años propició una «disminución del producto interno bruto (PIB) per cápita, una caída de la inversión, una baja en el consumo per cápita, menores exportaciones y un sostenido deterioro en la calidad del empleo».
En este escenario, el PIB de la región se completará una contracción de 4% entre 2014 y 2019, completando el menor crecimiento para las economías de América Latina y el Caribe en las últimas siete décadas.
Paraguay
Paraguay es parte de un grupo de países (Bolivia, Brasil, Chile, Colombia, Perú y Venezuela), exportadores de materias primas, donde las exportaciones se han contraído y el déficit de la cuenta corriente ha empeorado .
La caída del turismo emisor argentino afecta muy negativamente a algunos destinos regionales como el Uruguay, Chile y el Paraguay, dada la alta afluencia de turistas argentinos a sus sectores turísticos; así, los ingresos por turismo receptor de estos tres países caen un 18% (al segundo trimestre de 2019), un 11% (al tercer trimestre) y un 9% (al segundo trimestre), respectivamente.
El Paraguay enfrentó factores climáticos adversos que afectaron su producción agrícola (soya), la construcción y la generación de energía y redundaron en una contracción de la economía del -2,6% en el primer semestre de 2019, que debería compensarse en la segunda mitad del año.
La tendencia creciente de los niveles de endeudamiento en América Latina se ve impulsada por un grupo de países conformado por Costa Rica, el Ecuador, el Paraguay, Guatemala, la República Dominicana, el Uruguay, el Perú y el Brasil. Estos países mantienen una trayectoria al alza de la deuda sobre el producto.
La economía paraguaya está entre las nueve que vieron depreciar sus monedas en términos reales en este período. En América del Sur además se depreciaron las monedas de Chile, Colombia, el Ecuador y el Uruguay, mientras que en Centroamérica se depreciaron las de El Salvador, Panamá y la República Dominicana.
23 de 33 países de América Latina y el Caribe presentarán una desaceleración de su #crecimientoeconómico durante 2019, mientras que 14 naciones anotarán una expansión de 1% o menos al finalizar el año. Revisa las cifras de la #CEPAL por país. https://bit.ly/2YLl3KD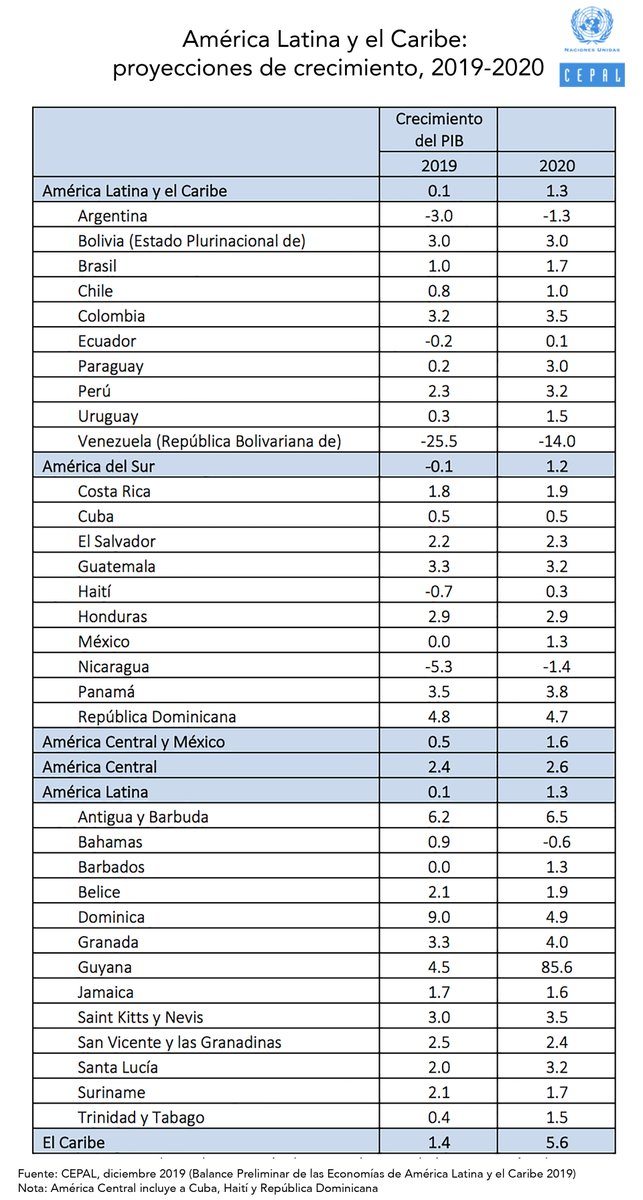 Tibia expansión en 2020
Para el próximo año, la Cepal prevé que las economías de Caribe seguirán liderando el crecimiento, con un avance de 5,6%, mientras que Venezuela -inmersa en una profunda crisis política y económica que parece no tener fin- continuará en cifras negativas, con una contracción esperada del 14%.
Argentina -que estrenó gobierno esta semana con el ascenso del izquierdista Alberto Fernández, sucesor del derechista Mauricio Macri- tampoco escapará a la crisis y se contraerá 1,4%.
En tanto, Brasil firmaría una expansión de 1,7% en 2020 y México crecería 1,3%.
«Ante este escenario, la región no aguanta políticas de ajuste y requiere de políticas para estimular el crecimiento y reducir la desigualdad», alertó Bárcena, en la rueda de prensa en que se reveló el informe económico.
Para la funcionaria las condiciones actuales de la economía latinoamericana obligan a los gobiernos a centrarse en la reactivación de crecimiento y en responder a las «crecientes demandas sociales», que se multiplican en la región y el mundo.
Reactivar la actividad económica con un mayor gasto público en inversión y políticas sociales, es la receta que entrega la Cepal ante las demandas sociales que deben ser respondidas con "esfuerzos redistributivos de corto plazo que deben completarse con aumentos en la provisión y calidad de bienes y servicios públicos", completó el organismo. LN
Desempeño agrícola influirá en el tipo de cambio para el 2020
El comportamiento de monedas histórica­mente estables como el peso chileno está mos­trando signos de debilidad. Dentro de la región, el país con mayores problemas es Argentina, que lleva acumu­lado dentro de los 11 meses del año una devaluación de casi el 60%. Después le sigue el peso uruguayo con un 17%; el peso chileno con un 16%, y Paraguay está dentro de un pelotón con el real y el peso colombiano en torno al 8–9%, menciona Basa Capital. En ese sentido, resalta que el des­empeño agrícola influirá en el tipo de cambio para el 2020.
La moneda más fortalecida de la región (o la menos deva­luada) es el sol peruano con 1%. Paraguay está aguan­tando una coyuntura nega­tiva importante gracias a los fundamentos macroeconó­micos sólidos que tiene el país, enfatiza.
"Si bien en Paraguay tuvi­mos un año complicado y un ingreso bastante menor de divisas, el Banco Central del Paraguay supo mane­jar la situación y mantiene al guaraní en niveles de 6.430–6.480 aproximada­mente. Existe una presión de la región que está pasando por contexto adverso, con todas las monedas deva­luando, por lo cual eviden­temente la competitividad del producto paraguayo se resiente", añade el reporte. Dentro de esa coyuntura, el guaraní viene desenvolvién­dose dentro de los parámetros esperados: una devaluación cercana al 9%, que no tiene un mayor impacto en la infla­ción hasta ahora. "Creemos que esa va a ser la tendencia para la semana que viene, ver el dólar–guaraní fluctuando entre niveles de G. 6.440 y G. 6.480, siempre por debajo de los G. 6.500", explica.
A mitad de febrero se prevé la cosecha de soja, que es uno de los principales rubros de exportación que tiene el país. Los envíos generaron en el 2019 más de mil millones de dóla­res menos, es decir, se tuvo US$ 1.100 millones menos de ingreso en comparación al 2018 en este rubro. Enton­ces, iniciando con un buen año agrícola ya vamos a tener una perspectiva de lo que va a ser el 2020. Todos esperamos que el comportamiento vuelva a nive­les normales, y que no volva­mos a tener una sequía, alega. LN

Conductores serán controlados en rutas vía tecnología RFID
La primera prueba piloto de la tecnología del sistema de fiscalización RFID se realizará en el puesto de control Dinatran ubicado sobre la Ruta 3, localidad 25 de Diciembre, departamento de San Pedro, este jueves a las 10:00. A través de esta tecnología los controles a todo tipo de vehículos dejarán de ser realizados por los fiscalizadores.
Se trata de un equipo de vanguardia para combatir la corrupción en las rutas, ya que se convertirá en una nueva alternativa de control, sin detener el vehículo, que será ejercido por la Dirección Nacional de Transporte (DINATRAN).
Desde la agrupación señalan que sería una apuesta a la transparencia ya que el RFID o identificación por radiofrecuencia (del inglés Radio Frequency Identification) busca eliminar errores humanos y permite contar con un centro operativo de control durante las 24 horas de los 7 días de la semana.
De esta manera, los controles en ruta de la Dinatran dejarán de ser realizados por funcionarios en las rutas y pasará a complementarse con la tecnología del futuro en identificación vehicular conviniéndose de esta forma, en la primera red de puestos de control electrónico del país.
El innovador sistema emite notificación automática e inmediata del estado actual del vehículo al pasar bajo los radares que estarán ubicados en zonas estratégicas en todo el país. La información pasará de forma inmediata al Sistema Informático Integrado de la Dinatran.
La relación entre fiscalizadores, transportistas y usuarios quedará limitada a un radar que alertará sobre la situación del vehículo y dará vía libre a las unidades que estén en regla y detendrá a las que se encuentran en infracción, en este caso el Sistema Central emitirá la boleta sin intervención del fiscalizador. LN