63 grados asfixian a Kuwait, las temperaturas más altas del mundo
Los carros se derriten, las personas se deshidratan y el termómetro sube: Kuwait registra las temperaturas más altas del mundo, superan los 60 grados.
Los termómetros de Kuwait lograron un nuevo récord mundial: 63 grados centígrados, la temperatura más alta registrada hasta ahora de todo el mundo. Hasta el momento, cinco personas han muerto por el calor y otras más sufren de deshidratación. Decenas de automóviles se han derretido
De acuerdo con el diario local Al Qabas, el pasado 8 de junio, los termómetros marcaron 52.2 grados centígrados bajo la sombre y 63 bajo la luz directa del sol en el país árabe.Ver imagen en Twitter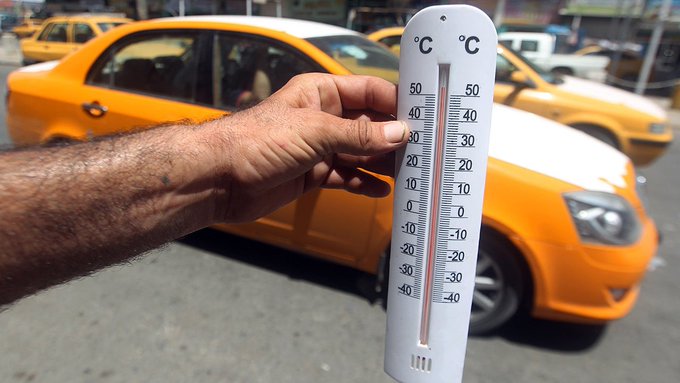 World Record Temperatures in Kuwait.
Up to 52 degrees wow!
Source: The Weather Channel#Kuwait #Heatwave96:08 – 17 jun. 2019Ver los otros Tweets de TalkAbout™Información y privacidad de Twitter AdsPUBLICIDAD
Hasta el momento, al menos cinco personas han muerto por el calor, así que las autoridades han recomendado a la población tomar precauciones para no deshidratarse.
De acuerdo con la comunidad científica internacional, la temperatura más alta que se tenía registrada en algún asentamiento humano, hasta el pasado gin de semana, era de 56.7 grados centígrados, registrada en Death Valley, California, el 10 de julio de 1913.
PUBLICIDAD
(Foto: Twitter)
Y el panorama no pinta nada bien para los habitantes de esta ciudad; se espera que las temperaturas alcancen los 68 grados durante el verano, que empieza el próximo 21 de junio.
Consecuencias de las altas temperaturas en la salud
Dolores de cabeza.
Deshidratación.
Vómito y diarrea crónicos.
Fotosensibilidad.
Calambres.
Agotamiento.
(Foto: Twitter)
Juntó US$ 2 millones para elaborar chipa, pero desencantado dejará Argentina e invertirá en Paraguay
El argentino Pablo Ricatti, exbancario y gurú financiero, en pocos días convenció a sus seguidores de la red social Twitter de invertir US$ 2 millones para abrir en Argentina una fábrica para hacer chipa, tradicional pan originario de nuestro país.
Tras reunir el monto del dinero, fue llamado por el presidente Mauricio Macri con el objetivo de tener una reunión. Sin embargo, el empresario ya tenía decidido desde hace un tiempo venir a Paraguay a invertir el dinero de sus socios. Tras la última devaluación del dólar, Ricatti confirmó que suspenderá todas sus operaciones en la Argentina para venir al país en los próximos meses.
En entrevista con el medio argentino BAENegocios.com, Ricatti comentó que suspendieron el proyecto cuando el dólar se hizo "pelota" y empezaron a poner el cepo cambiario.
"No era momento de poner plata en Argentina. El día después de las elecciones, con la devaluación, como uno fondea y pone dólares pero el patrimonio queda en pesos, nos impactó. Tuvimos que suspender todo", dijo.
Ricatti señaló que su idea es venir a crear industrias en Paraguay, pero acotó que la panificadora y la distribuidora, empresas heredadas por su abuelo, seguirán funcionando allá. No obstante, dijo que que la idea a futuro es traer todo.
Por otra parte, Ricatti afirmó que si bien la victoria de Alberto Fernández en elecciones en la primera vuelta fue lo que hizo detonar la situación del país, aclaró que no decide retirarse del país por esa cuestión. Sino más bien por la política de Macri que "fue tan mala", según dijo, que finalmente "permitió que gane el kchinerismo". "La culpa no la tiene Fernández. Lo único que hago es intentar hacer un negocio. No quiero que me tomen para pegarle a uno o a otro", expresó.
Menor burocracia y menos impuestos, inclinan balanza a favor de Paraguay
El empresario comentó que viene visitando Paraguay desde el 2018, pero que recién ahora decidió instalarse en nuestro país. Explicó que decidió elegir a Paraguay porque tiene muy bajos impuestos, indicando que el IVA es 10 contra 21 en Argentina.
"Las ganancias es 10 contra 35 de Argentina. Si tenés que importar máquinas no pagás aranceles aduaneros, acá en la Argentina te pueden cobrar entre un 70% o 100% más. Se pueden importar materias primas sin problema. Acá pinta que vamos al esquema de declaraciones juradas de importaciones. Acá una habilitación municipal te tarda cinco años, hace casi dos años que trato de registrar una marca. Hay mucha burocracia para hacer negocios", expuso Ricatti al medio argentino.
Difícil que cambie situación en Argentina
Ricatti ve muy difícil un cambio en la situación de la Argentina para que el empresario vuelva a apostar en el país.
"No creo que vuelvan a cambiar el tema impositivo de un fin de semana a otro. No puede ser que no te permitan ajustar balance por inflación, es muy arbitrario, hay temas fiscales que en realidad la modificación de la alícuota de ganancias termina no siendo real nunca. Cuando uno quiere distribuir dividendos hay que tributar ingresos brutos, eso sigue igual. Básicamente temas impositivos y compra y venta de moneda extranjera", apuntó.
Ricatti se encuentra actualmente preparando maletas para aterrizar en Paraguay. Por el momento deja la panificadora Salke Fresch, que produce pan de panchos y hamburguesas en la Argentina. Fracasó en varios otros proyectos que decidió emprender en la Argentina. A pesar de ello, ve una ventana de luz y oportunidad en Paraguay, en donde vendrá con sus inversores tuiteros que lo seguirán desde la red social.
Ibovespa vai a 106 mil pontos e bate recorde; dólar fecha a R$ 4,13
O Ibovespa terminou a sessão desta segunda-feira (21) no seu maior patamar histórico de fechamento. O índice subiu 1,23% a 106.022 pontos com volume financeiro negociado de R$ 18,794 bilhões. O antigo recorde era de 105.817 pontos, atingido no dia 10 de julho deste ano.

O dólar comercial subiu 0,27% a R$ 4,129 na compra e R$ 4,130 na venda. O dólar futuro para novembro avança 0,46% a R$ 4,136.
O câmbio foi afetado pela crise política no Chile, que registra saldo de 11 mortos em manifestações contra o aumento nos preços de transporte. No fim de semana, o Parlamento britânico frustrou expectativas de que fosse aprovado o acordo negociado pelo primeiro-ministro, Boris Johnson, com a União Europeia.
No Japão, o presidente Jair Bolsonaro disse que "o bem vencerá o mal", em referência à disputa dentro do PSL. A cúpula do partido, liderada pelo presidente Luciano Bivar, afirmou que passará a atuar de forma independente, o que significar contrariar o governo em algumas votações no Congresso. CGNEWS
Paraguay atrae más rutas y frecuencias aéreas de compañías internacionales
Asunción, IP.- La Dirección Nacional de Aeronáutica Civil (Dinac) informó la llegada al país de la empresa de servicio de transporte aéreo Avianca. La misma realizará tres frecuencias semanales. Así también existe la posibilidad que Copa Airlines y American Airlines puedan concretar conexiones con el país.
El presidente de la Dinac, Edgar Melgarejo, confirmó en entrevista a Radio Nacional del Paraguay que la aerolínea panameña Copa Airlines, está interesada en llegar hasta el Aeropuerto Guaraní además del vuelo que tiene a Asunción. Para ello una comitiva de la mencionada compañía llega hoy a la capital del Alto Paraná para analizar la factibilidad del aeropuerto.
"Otra aerolínea interesada en habilitar una conexión con la capital del país es American Airlines, cuyos representantes estarán en Asunción el próximo mes de noviembre de forma a ver la posibilidad de la ruta Asunción – Miami u otro punto de los Estados Unidos", mencionó Melgarejo.
Mientras que la compañía española, Air Europa anuncia que desde junio del próximo año, estará habilitando una frecuencia más, completando los 7 días de la semana para la conexión Asunción – Madrid. Actualmente tienen vuelos hasta los sábados y desde la segunda mitad del 2020 habilitarán el día domingo, informó el titular de la Dinac.
Igualmente, comentó que desde noviembre la mencionada línea aérea europea llegará a Asunción con un Boeing 707 Dreamliner, de última generación, totalmente nuevo.
Agregó que Avianca, la empresa colombiana de aviación envió una nota solicitando la autorización de la ruta así como la preventa de pasajes para iniciar vuelos desde el mes de diciembre en la ruta Asunción – Bogotá.
En ese sentido, Melgarejo señaló que las buenas relaciones entre el presidente de nuestro país con el de Colombia, favorecieron las negociaciones y esta semana estaría siendo autorizada la ruta y la preventa de pasajes indicó.
Paraguay en la OACI
El titular de la DINAC, actualmente se encuentra participando de la asamblea internacional de la Organización de Aviación Civil Internacional (OACI), máximo órgano rector de la aeronáutica mundial y anunció que mañana Paraguay podría ser electo para estar entre los 36 países representantes del mundo ante este consejo.
"El momento es más que importante, de tener esta presencia de nuestro país, ya que necesitamos ser visualizados en el contexto de la aviación civil, un paso grande para concretar nuestros proyectos", señaló y dijo que la importancia radica en que se podrá concretar nuevas rutas.
Indicó que esto "es fruto de nuestra presencia permanente en los foros internacionales y sobre todo de este gran acuerdo de desarrollo de infraestructura que estamos siendo liderados o monitoreados por la misma OACI, de preparar la pista, proyectar una nueva terminal, recuperar y rehabilitar las dos pistas que tiene el aeropuerto internacional Pettirossi con la misma organización internacional"
Destacó que nuestra imagen como país en el contexto de la aviación internacional es positiva, "porque el gobierno encarno de manera muy seria, y sobre todo la tutela que tenemos nosotros en el comentario y en la ponderación de toda la comunidad aeronáutica internacional, saben que estamos apostando a infraestructura y mejorando los niveles del cumplimiento de los estándares internacionales y garantizar la seguridad de la operación, para vender a nuestro país de manera internacional".
El Presidente de la Dinac, agradeció las gestiones de alta política hecha por la Cancillería para lograr esta posibilidad de que Paraguay pueda integrar el importante grupo aeronáutico.
Con esta elección el país tendría un representante permanente en la sede de la OACI por 3 años, se trataría de David Urquhart, 38 años, abogado, piloto aeronáutico y experto en temas de aviación. El mismo es funcionario de la Dinac y ya viene representando a Paraguay ante la OACI en los diversos encuentros.